David
Schwimmer


VITAL STATS:
Occupation: Actor, Director
Date of Birth: November 12, 1966
Place of Birth: New York, N.Y., USA
Sign: Sun in Scorpio, Moon in Scorpio
Education: Beverly Hills High School; graduated from Northwestern University

Fan Mail: C/O The Gersh Agency P.O. Box 5617 Beverly Hills, CA 90210 USA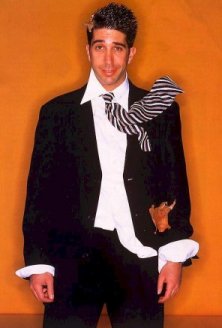 David's BIOGRAPHY

WHEN the producers of Friends were trolling Hollywood's talent pool for attractive twentysomething actors, David Schwimmer was already in their net. The soon-to-be hit sitcom's creators designed the role of nebbishy, nerdy, neurotic Ross Geller with Schwimmer in mind, and they cast the endearingly dorky actor without an audition. Such faith was not misguided: Friends rocketed up the ratings; audiences loved Ross; and Schwimmer assumed star status.
Ironically, Schwimmer accepted Friends' casting invitation with reluctance, for he had promised himself no more sitcoms after a miserable experience on Henry Winkler's stillborn 1994 series Monty. Besides, ever since his days as a student at Beverly Hills High, David Schwimmer has fancied himself a man of the theatuh. He and classmate Jonathan Silverman, sometime star of The Single Guy, both acted in several productions at the academic/celebrity-training institution. Upon graduation, Schwimmer headed to Chicago's Northwestern University, where he toyed with pursuing medical or legal studies, in deference to his lawyer parents. (Schwimmer's mother handled Roseanne's first divorce.)
But the lure of the stage superseded that of the courtroom, and Schwimmer went on to earn a degree in theatre and speech. Once out of school, Schwimmer co-founded Chicago's Lookingglass Theatre Company, and the troupe has been his passion ever since. Schwimmer made a brief foray into television in 1989, when he was cast as a murderous boyfriend in a TV movie, A Deadly Silence (1989), but this first Hollywood experience was so dreadful that Schwimmer returned to Chicago and immersed himself in Lookingglass productions and plenty of Friends-style loafing.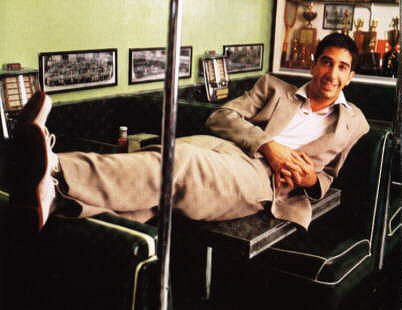 But Los Angeles still beckoned, and Schwimmer continued to dabble in television. Between plays, he found recurring roles on several series, including The Wonder Years, L.A. Law, and NYPD Blue. These roles ranged from lovin' hippie to hatin' vigilante, and represented a diversity of characters that Schwimmer hasn't enjoyed since Friends debuted in 1994. Audiences crowned his stuffy-nosed, looking-for-love, and eminently huggable paleontologist Ross an unlikely sex symbol, and they eagerly follow his caffeinated escapades, notably his on-screen relationships with simian co-star Marcel and non-simian love interest Rachel, played by Jennifer Aniston. By the time the first Friends hiatus rolled around, Schwimmer had thirty scripts to choose from for his starring cinematic debut. He and his agents chose a Ross-like role in The Pallbearer, a dark comedy co-starring Gwyneth Paltrow. He followed up the somewhat disappointing outing with a starring role in the witty, if routine, romantic comedy Kissing a Fool, and with a supporting turn as a counselor in the Stephen King adaptation Apt Pupil.
For hiatus number two, he declined a film role opposite Tommy Lee Jones for the chance to direct a low-key ensemble comedy from Miramax, titled Since You've Been Gone (he also appears in the film, as a smarmy master of ceremonies). The production's cast includes a handful of Lookingglass members, many of whom Schwimmer has previously directed on-stage. Miramax has faith in Schwimmer's future in Hollywood, and is wagering a seven-digit, multi-picture deal that there is more to the Friends breakout star than just a lovable hangdog expression.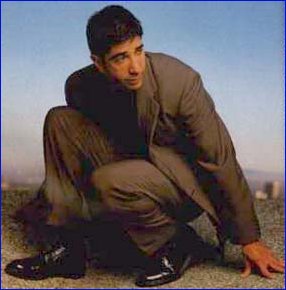 Ross Geller

David Schwimmer plays Ross Geller on Friends. Ross is the cute and lovable paleontologist. He is single, but he has been married to a lesbian (Carol), engaged to an English woman named Emily, and has dated Rachel (Jennifer Aniston). Ross lives on his own but in the apartment building across the street from his sister, which used to belong to Ugly Naked Guy. He is funny, smart and cute, and that's why he is one of our favorites. :-)




Ross' Freebie List

1. Elizabeth Hurley
2. Uma Thurman
3. Winona Ryder
4. Michelle Pfeiffer
5. Dorothy Hamill
(Isabella Rossellini was on the list but Chandler mentioned that she was too interational.)

Filmography!



Band Of Brothers HBO mini
Picking up the Pieces
All the Rage (1999)
Six Days Seven Nights (1998) .... Frank Martin
Kissing a Fool (1998) .... Max Abbitt
Apt Pupil (1998) .... Edward French
Since You've Been Gone (1998) (TV) .... Robert
Breast Men (1997) (TV) .... Dr. Christopher Saunders
Happy Birthday Elizabeth: A Celebration of Life (1997) (TV) .... Himself
Pallbearer, The (1996) .... Tom Thompson
"Friends" (1994/I) TV Series .... Ross Geller
Wolf (1994) .... Cop
"Monty" (1994) TV Series .... Greg Richardson
Twenty Bucks (1993) .... Neil Campbell
Vaiter, The (1993)
Crossing the Bridge (1992) .... John Anderson
"Wonder Years, The" (1988) TV Series .... Michael (1991-1992)
Flight of the Intruder (1990) .... Duty Officer

Ross & Rachel

Video Clip A David Interview Clip

PICTURE GALLERY

If you have any questions email me (the webmaster): at Settember@aol.com


HOME


---

This page has been visited

times.

---
---
---
---